What's the best way to make money coding? How soon can you earn income with your programming skills?
If you're interested in learning coding to start a new career, congratulations!
Learning how to code is one of the most profitable skills you can teach yourself. The job market is booming and there's a high demand for skilled developers worldwide.
The best part?
Thanks to the growing demand, the average salaries for web developers and most tech jobs are very lucrative.
To help you get started, I'll show you the best ways to make money coding in this article. Whether you're a beginner or an intermediate developer, you will find helpful tips to boost your income with your coding skills.
Let's dive right in!
Here are a few related posts you may want to read, too:
Please note: This post contains affiliate links to products I use and recommend. I may receive a small commission if you purchase through one of my links, at no additional cost to you. But please, only buy products you believe will help you achieve your goals faster. Thank you for your support!
Make money coding from home: What we'll cover in this article
Here's an overview of the four different ways to make money coding from home we'll look at in this article:
Let's get started!
Is it easy to start making money as a developer?
Since there are so many different tools you can learn in the world of tech, there is no straightforward answer to this question.
It all depends on what you wish to learn and achieve with coding. You can learn some tools in a matter of days and start making money right away.
But with most programming languages, you will need more time to become proficient enough to start making money as a programmer.
Recommended: What Programming Language Should I Learn First?
For instance, if you're interested in learning front-end web development, you could start with your first mini jobs in just a couple of weeks. Or even sooner.
On the other hand, if you choose to specialize in data analysis and machine learning, you will need more time to gain enough confidence to start working and earning your first bucks.
But all in all, the best part of coding and web development is that it's a skill you can learn by yourself and set your own pace with it.
You don't need a college degree or years of experience. Just start by learning the basics of at least one programming language. After that, it's time to start practising on small real-world projects of your own.
Related articles:
Option 1: Get a full-time developer job
Feeling like climbing the corporate tech ladder?
In that case, you could consider learning coding to get a full-time developer job in the future.
Learn the necessary skills, build a stellar portfolio, and start applying for jobs. Join a company you find interesting and see where you can go.
The job market for developers seems is booming – and it has for years already!
In the US alone, the employment for computer and IT occupations is estimated to grow 13% from 2016-2026 according to the Bureau of Labor Statistics. That is faster than the average for all occupations.
Although it's impossible to predict the future, the demand for technical roles is high already and continues to grow.
Let's take a look at four of the most popular entry-level roles you could choose between.
Recommended: Web Developer Salaries: How Much Do Web Developers Make?
Front-end Web Development
Web developers create websites and web applications.
As a front-end developer, you are responsible for the visible parts of a website project. Everything that the user can see and interact with is created by front-end developers.
Read also: What is the Difference Between Front-end vs Backend Development
For an entry-level job, you will need to learn three languages:
HTML (HyperText Markup Language) to create the actual content like text, images, links, etc.
CSS (Cascading Style Sheets) to style and design the content created with HTML
JavaScript to add interactivity and dynamic features to a website
Learning three languages for an entry-level job may feel a bit daunting at first. However, you can easily learn the basics of HTML and CSS in just days or a couple of weeks.
Learning how to master JavaScript will take longer. But you will continue to practice your HTML and CSS skills along the way, since these three languages always work together.
Also, front-end developers work closely with graphic and product designers. Designers create the look and corporate identity for each web project. It is your job as a front-end developer to code the website to look the way the designers intended.
How much does a Junior Front-End Developer make?
The average salary for a junior or entry-level Front-End Web Developer in the United States is approximately $65,700, according to Glassdoor.
Back-end Web Development
Back-end web developers create everything that is not visible to the end users on a website.
Basically, backend developers build any function that has something to do with saving data from the users and retrieving it for them. So, features like logging in, creating user profiles, messaging, or uploading files are all created by back end web developers.
As for the tools and programming languages required for back end web developer jobs, there's a lot more to choose from than for front-end jobs.
The most popular back-end programming languages include:
Python – a very powerful and versatile programming language, also very beginner-friendly
PHP – a server-side programming language used by nearly 80% of all websites
Ruby – popular language for creating web applications, especially in startups; easy to pick up and yet very powerful
SQL – needed for creating and managing databases
All in all, back-end developers write the code for a web application and create the necessary databases for it. They also work closely with front-end developers, too, to make sure the website has all the needed functions and works the way it's supposed to.
Read next: What Is the Best Language for Web Development?
How much does a Junior Back-End Developer make?
The average salary for a junior or entry-level Back-End Web Developer is approximately $62,900, according to Glassdoor.
Data Analysis (Machine Learning, Artificial Intelligence)
Data analysts work with massive amounts of data, processing it to find insights that can bring value to their employer. In general, data analysis is heavily focused on statistics and searching for patterns in the data.
Thanks to the growing popularity of machine learning and artificial intelligence, data analysis is one of the most financially lucrative skills you can learn.
There are tons of daily, practical applications for data analysis, from Alexa to suggestions for movies you'd like to watch next on Netflix.
The most widely-used programming languages used by data analysts are Python, R, and SQL. If you enjoy working wit statistics and sifting through data and reports, this could be your field!
How much does a Junior Data Analyst make?
The average salary for a junior or entry-level Data Analyst is approximately $60,700, according to Glassdoor.
Mobile Application Development
Mobile developers build applications that run on mobile devices, like cell phones and tablets.
The challenge in this field is to create a user-friendly and intuitive functionality with the smaller screen size and without a proper keyboard.
Most mobile developers build their apps for two of the biggest app stores:
Apple App Store – home for the apps for all iOS devices (iPhones, iPads)
Google Play Store – hosts all the apps for devices running the Android operating system
If you wish to build apps for iOS devices, you need to learn two programming languages: Objective-C and Swift.
For app development for Android devices, you would learn Java.
Even though the market for mobile apps is not booming like it was a few years back, there is still high demand for skilled and professional developers in this field.
How much does a Junior Mobile Application Developer make?
The average salary for a junior or entry-level Mobile App Developer in the U.S. is approximately $63,500, according to Glassdoor.
Option 2: Start freelancing as a programmer
One of the best things about learning programming is that you can start making money almost right away as a freelancer.
Out of the four options in this post, becoming a freelance developer is by far the easiest and quickest one.
Even with just relatively little coding experience, you can start looking for small jobs to practice your skills, create new contacts, and earn a little cash on the side.
And you don't even have to quit your job! You can start looking for freelance work on the side while having a full-time job.
How can I start freelancing as a programmer?
The very first thing you should do is to go online. Literally.
Start by updating (or creating!) your LinkedIn profile. Do that right now!
Second, look for work among the people around you: friends, family, relatives, colleagues, people you see daily at the coffee shop, supermarket, or hair salon.
Do any of them need help with creating or updating their website, for example?
If it's difficult to find work locally, don't hesitate to explore freelance job opportunities online. We'll look at this in a second.
How much money can I make freelancing online?
Of course, your hourly rate will be very low in the beginning. But keep in mind that you're still learning.
Offer your help at an affordable price at first. Remember, you're just starting out and any experience is incredibly valuable for your future.
Every little job you get goes towards building a solid portfolio. That is your key to getting bigger, better-paid jobs in the future.
As your skills improve, you will not only know more about the technical part of freelancing. You will also gain valuable experience for communicating with clients and managing projects more efficiently.
So, don't expect to make tons of money from your first freelance jobs. Just take them as a learning experience. If you put in the "cheap" hours now, you can charge much more for your work in the future.
For more details, head over to my article on how I made my first $1,000 freelancing online.
In the long run, there really is no limit to how much money you can make freelancing.
It all depends on how much you're willing to work. When your freelancing business takes off, you need to start turning down projects.
Just bear in mind that your income will fluctuate a lot, of course.
For instance, if you build websites, you'll probably see a summer slump, when people aren't in the office. Come September and you'll see an upward trend again.
How to start freelancing as a beginner programmer online?
There are a number of websites where you can sign up as a freelancer and offer your services to a much bigger audience than just your local social circle.
In fact, the very first small coding jobs I got were through an online platform, Upwork.com.
But to be honest, when I started learning coding, I didn't even think about making money with it. At least not anytime soon. I thought I would need a college degree and years of experience to actually SELL my skills to clients.
Also, it seemed like a very distant thought to have someone pay me for doing something I really loved and enjoyed. I mean, I was learning coding simply because it was so much fun.
But one day, a work colleague told me to go online and see what I could find. I came across UpWork, read some positive reviews, and signed up.
First, I did some basic HTML and CSS jobs for $10–30. But after a while, I started charging ten times as much. It was pretty good, considering I was just doing it occasionally.
When I got my first $3,000 job just 3 months in, I couldn't believe what was happening. Not too bad for a beginner!
Now, I won't go into too much detail on this, but could check out these platforms to get started:
Each of them has a slightly different setup. Go through their payment terms and see what people are saying about them.
I'd recommend not using too much time choosing one.
If you're not quite sure, just go with Upwork. I had a very positive experience with them and there are tons of jobs you can apply for.
To set up your profile the right way, follow my step-by-step guide on how to create an Upwork account that gets you hired faster.
How to find freelance work online as a beginner
Tip 1: Choose one platform and stick with it
Getting freelance work online is strongly based on reviews. You do a good job for a client and they write a short review that is visible on your freelancer profile page.
When new clients see great reviews on your page, they are more likely to hire you.
Therefore, focus on just one platform and gather as many positive reviews as possible.
Tip 2: Keep your bids low in the beginning
Your first freelance jobs are primarily for learning.
Explain why you are willing to work for a low price, e.g. tell your clients you're just starting out and are more interested in doing a great job in exchange for a positive review.
Tip 3: Don't take on big projects
Start very small, don't be too ambitious. It's better to go for the easiest jobs first to gain confidence in your skills.
Trust me, you don't want to have to tell your client that you can't finish the job.
Tip 4: Be honest and direct
Only list your real skills on your profile, even if it's just basic HTML and CSS at this point.
If you get a job offer for a project that's too demanding, learn how to say "no" right from the beginning.
Also, be confident in your skills. Don't underestimate yourself and make sure you clarify the job requirements with your client up front.
If there's a problem or disagreement with your client, you can turn to the platform to clarify any issues.
When can I start freelancing as a beginner programmer?
The quickest way to start freelancing online is to learn HTML and CSS. It's the best way to make money while you learn to code.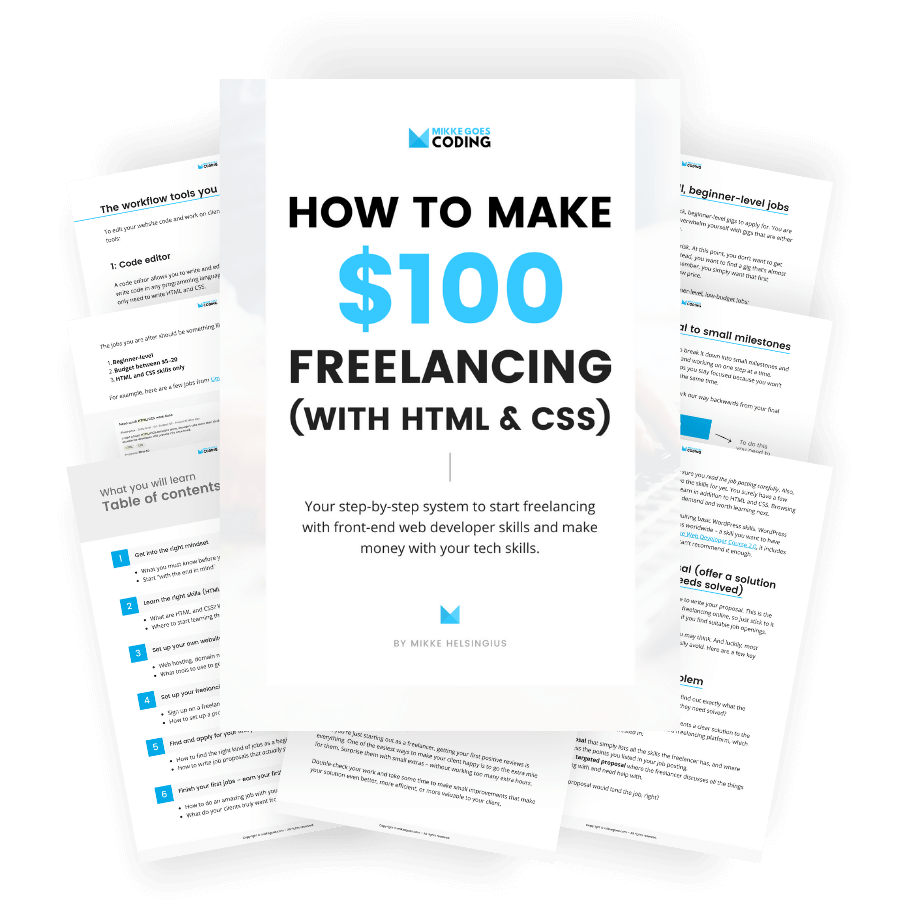 If you plan to become a front-end developer in the future, you can start making money in a matter of days or weeks.
The most simple jobs for freelancers online are usually something like fixing broken links, adjusting CSS for some styling, or adding some new content to a website.
So, as soon as you feel confident enough with your skills, just go for it.
First, take some time to create a professional profile on a freelancing platform you'd like to use. List your skills and start bidding for a few projects.
Then, just keep your rates low and respond to potential clients promptly and clearly.
Good luck! You can do this!
If you're aiming higher and want to conquer the world with you coding skills, there's another option you might find interesting…
Option 3: Become an entrepreneur
Start your own tech startup or coding business!
How many times have you thought to yourself, "there should be an app for this.."? If you're into mobile development, start coding your own apps!
Alternatively, if you have a great business idea and wish to team up with like-minded coding enthusiasts, you could establish your own technology start-up. It doesn't have to be anything too big at first. Usually, the most successful startups have an incredibly simple business idea.
All you need to do is to offer people a way to do things more easily or quickly by using technology – that's it.
One very viable idea for a successful startup is to create a web application of your own. Team up with backend and front-end developers and create a tool you believe in.
I chose this path as a developer and started my own web design business back in the day. And honestly, I've never looked back.
For more details about how I started learning coding, check out my post Learning to Code? This is What I Learned in 6 Months.
How to learn coding and become an entrepreneur?
If entrepreneurship is something you'd want to do in the future, here's how you can get started:
Step 1: Gather, research, and develop business ideas
Every successful company has one thing in common:
They bring value to their customers.
If you can find a way to help people with an everyday task or solve a problem for them, why not make a business out of it?
Make sure it's something you know a lot about and enjoy spending time with.
Step 2: Research the current market and competition
Find out everything you can about the current market:
Is there demand there?
How about your competition?
How can you reach and target your potential clients?
Will you offer your product or service locally, nationally, or globally?
In the beginning, you might only offer one service locally. As you learn more and become more confident in your skills, your portfolio grows.
You can reach a bigger client base by offering a wider range of services or by extending your marketing beyond your local area.
Step 3: Figure out your unique selling point
Your unique selling point (or USP) is something that sets you apart from your competition. It's the reason why your customers will choose you over all other providers.
For me, my USP was something as simple as a friendly and approachable image. I'm here to help my website clients to achieve their goals, not mine.
Also, I offer a complete website concept as a one-man show, so that my clients don't have to organize meetings with an entire team of designers and developers.
A little piece of advice: don't overthink you USP. Most customers are willing to pay extra for simple solutions that make their lives easier.
Step 4: Craft a benefit-driven product or service
Based on everything you know so far, start refining your initial ideas. Figure out whether it's a product or a service you can offer to your customers.
Products usually require bigger investments up front, but once everything is set up properly, they scale quite well.
Services can be offered with very little investments, as long as you have the right tools to manage your customer base.
Of course, starting your own business entails much more, but you get the idea. It's all about helping your future customers with a benefit-driven solution to a specific problem.
Option 4: Teach others what you have learned
When you learn coding and web development, you acquire skills that thousands of others will learn after you.
There are heaps of beginner coding enthusiasts that are looking for answers to the same questions you had just a while ago.
So, why not help your fellow programmers with your knowledge?
You don't have to be the best programmer in the world to help others! You simply need to be one step ahead of someone to help them, right?
So, any information you have about coding is valuable to someone else. You can literally teach anyone. Even if it's just helpful tips for learning or getting started with coding.
There are many different ways to make money as a programmer this way, like:
Creating online coding courses
Publishing tutorials online
Building a small consulting business
Offering workshops in your area
Writing an e-book on a specific programming topic
In short: whatever it is you enjoy the most with coding, let others get a slice of that passion, too.
And the good news is:
It's super easy to publish books, courses, and tutorials these days. Here are a few powerful platforms you can use:
Udemy for creating and publishing your own online coding courses.
YouTube for publishing your own video coding tutorials.
Amazon Kindle Direct Publishing for creating and selling your own books to a global audience.
Your own website! Use it to sell and promote your products and services online.
I want to make money as a programmer. Where should I start?
So you're ready to get started? Awesome, congrats!
To get started the right way, you need to get into the right mindset. I see a lot of beginners overthink this. They just end up feeling too overwhelmed, setting unrealistic expectations for themselves.
But what it all boils down to is this:
Whatever method you choose to make money coding from home, you simply need to find the biggest pain point of your target audience.
As long as you can solve those problems, you're a potential candidate for the job!
How I started making money coding from home
Let me just quickly explain how I started making money with my tech skills a few years back:
I started making money coding with small freelance jobs on UpWork. They were quick and easy HTML/CSS adjustments I finished in 1-2 hours each.
But to be honest, it was downright daunting to apply for those first gigs. I wasn't feeling confident at all, but I knew I had to start somewhere.
How did it turn out?
Not too shabby! After a few months, I quit my job and started my own web development and web design business!
The best part?
I've never been short of work! Also, my job has given me the absolute freedom in life. I can be my own boss and decide when I get out of bed, take a nap, or work remotely when I travel.
Sounds good? If so, here's what you should do next:
Step 1: Define your goals and your why
The first thing you need to figure out is your "why":
Why are you learning coding?
What do you want to build in the future?
What do you want to achieve in the long run?
Read my article on how to start learning to code from scratch. It will help you find your why and start your journey towards becoming a professional developer the right way.
Step 2: Make sure your skills are in demand
Learning what you love is one thing. But finding someone to pay you for helping them with your skills is a different thing.
And this is where most beginners get it wrong. They want to sell their skills instead of solutions.
They want to create supply without knowing if there's demand in the market.
Let me explain:
For example, let's say you're learning Python. You love the language and you want to become a Python developer. And hey, nothing wrong with that – that's a great goal!
But before you start planning your future career, what you should ask first is:
Can I make money with this skill?
Where can I find jobs?
When am I ready to apply for them?
For instance, if you want a full-time job, your chances for finding one depend on where you're looking. In some areas, you'll find more jobs for Python skills than in others.
If you want to start freelancing, some skills are easier to monetize than others. You'll find much more job openings for front-end developers than for complex data science projects.
Thus, you can learn enough HTML and CSS to find your first jobs in a matter of weeks. But mastering large-scale data analysis with Python takes more time.
Makes sense, right?
Step 3: Create your portfolio website draft
When you know why you want to do this and you're sure that there's demand in the job market, you're all set!
Now you need a portfolio website. You'll use is to find your target audience and promote your services to them.
Here are a few points to figure out:
Target audience and ideal clients:
Match the features and design to appeal to your target clients.
Core service or product:
Set a clear core offering that draws from your unique selling point (USP).
Secondary and complementary services:
Offer complementary services in the future to produce even more value to your clients.
Site structure and content:
Keep it simple. Draft some short text for your Homepage, About page, Contact page, and Services.
At first, it can be just a simple one-pager about you and what yo do. As you skills improve, you can add more content that appeals to your target clients.
Also, with each project you build, add them to your website to showcase your best skills.
You'll find all the resources you need for setting up your website right here.
My first portfolio website was build around my core service of building simple but beautiful websites for small businesses and other freelancers.
Later, I added a couple of secondary services:
Website care and maintenance plans
Search engine optimization (SEO) for websites
I tried to keep everything as clear and simple as possible. The most important lesson I learned was: nobody cares about my skills per se. They want to see how I can help them and solve their problems.
So, forget about listing all the programming languages and tools you work with! The average client can't see the value in that. Instead, tell them how you can make their lives easier with the services you provide.
Step 4: Get web hosting and register a domain name
Now your portfolio website needs a web hosting plan and a domain name to go online.
You can pick a domain name based on your name, for example. Make sure it's professional and reflects who you are and what you do.
As for web hosting, there are hundreds of providers you can choose from. You want to look for:
Reliable uptime (your website can't be offline!)
Easy and helpful support features
Solid technical performance
I usually go with Bluehost.com when launching a new website or blog. They have a quick and easy signup process, and you get a free domain when you sign up for hosting.
As a little bonus, I've negotiated an exclusive hosting package for you starting at just $2.95 per month (yep, that's a shameless affiliate link). However, you need to pay for a minimum of 12 months up front.
Step 5: Create a homepage
When you've finished your signup and you're logged in to your hosting admin area, you can create a homepage right away.
The quickest way to create your portfolio website is to use WordPress. It's a powerful but easy-to-use content management system or CMS.
If you want to create your website from scratch, just write a few HTML and CSS files to get your homepage set up.
For a very basic website, start by writing a few paragraphs of content. Write a short bio about yourself and why you're learning coding and web development.
Also, add a link to your LinkedIn or Twitter profiles! This helps your visitors find out more and connect with you.
Now upload your files to your web server:
If you're using Bluehost, you'll find a root folder on your hosting account called "public_html". That's where you can upload your HTML and CSS files via FTP. Just make sure you name your homepage file "index.html".
For a step-by-step guide, check out my post on how to build a website from scratch.
Congratulations! You now have a portfolio page online!
Step 6: Start learning the right coding tools
Now that you have your portfolio all set up, it's time to find the best resources to start learning coding with.
Whenever you finish a small project of your own, you can upload it to your portfolio page for the world to see.
To get started, feel free to use free online courses to learn the basics. Check out Codecademy or FreeCodeCamp to get started, for instance.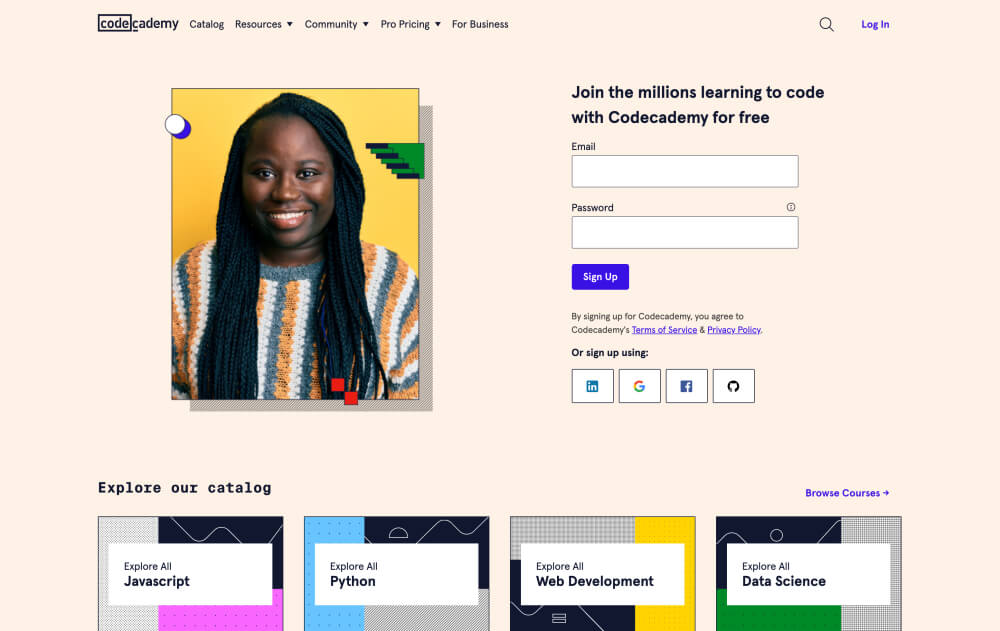 If you have the time, try out a couple different programming languages to see which one you prefer working with. Then, go through a beginner-level course to get more familiar with it.
Check out these free websites to learn coding for beginners to get started.
For more courses and tutorials, use these hand-picked web developer courses and books sorted by category:
These should get you well on your way!
If you have any questions about the courses and other material, just drop me a line in the comments below!
Read also: How to Get Your Money's Worth With Online Coding Courses
Step 7: Build projects for your portfolio
When you learn to code, try to build as many practical (and meaningful!) projects of your own as possible.
So, as you work your way through coding tutorials and exercises, take breaks to build something on your own. See if you're able to apply what you just learned to your own side projects.
You'll find great ideas and inspiration in most coding courses and books. However, the best side projects are the ones that help you solve a problem for yourself.
So, think about how you could create a simple app or program that helps you in your daily life.
Here are a few things your own programs could do for you:
Filter and sort emails automatically
Rename and organize your files
Generate reports at work
Remember: anything is possible with coding!
Just start small and find solutions to problems by dividing them into smaller pieces. Then, go one step at a time until you achieve your goal.
Once you have build a portfolio that showcases your skills well enough, you are ready to start applying for jobs – or more!
Final thoughts: How to make money coding?
I hope you're still with me – this was a long post! I'm sure you found a few ideas on how to make money coding from home.
Please share this post with others so that they can find it, too! Thanks!
For even more money-making methods, check out these top ways to make money programming, too!
All in all, learning how to code is an insanely powerful way to acquire new skills you can use for a huge variety of jobs in the future.
The best way to make money with your coding skills is to start when you're still learning. Why not start freelancing to gain hands-on experience before you start applying for full-time developer jobs?
I mean, what's better than learning new skills and earning money with them on the side as you go?
That's what I did, too. So yes, I maybe a bit biased. Nevertheless, I soon landed bigger, better-paying jobs and became a full-time freelancer.
If you're prepared to put some hard work into it, I know you can start making money as a freelancer much faster than I ever did, trust me. You'll have the opportunity to build real-life projects for your portfolio as you go. Later, you can use that portfolio to apply for full-time jobs when you feel ready!
Now I want to hear from you! What are your plans for making money with coding? Share your thoughts and ideas in the comments below! I'd love to hear your feedback on the article, too!
Alright, that's it for today! Good luck and have fun with it!
Here are a couple of related articles you might want to read, too:
Happy coding, everyone!
– Mikke