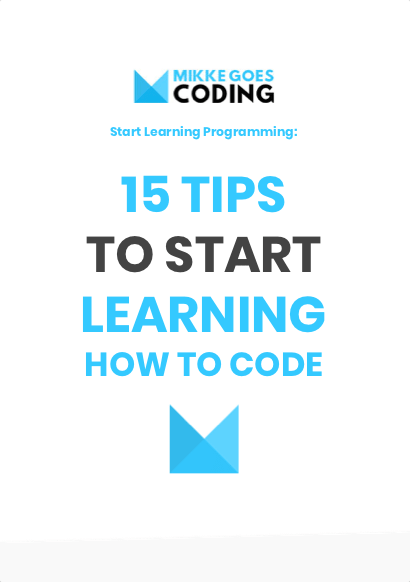 Free Coding Guide for Beginners
Learn coding and web development online
Learning to code is hard. It's difficult to know where to start and how to take the first step.
If you want to learn how to code to start freelancing online, this guide is for you. I will help you start learning coding and web development skills the right way from the beginning.
You will save time and money, and reach your goals faster with the best resources that teach you what you really need to know.
Free Coding Guide for Beginners
Teach yourself to code, learn web development basics, start a career in tech.
Hey, I'm Mikke, a self-taught freelance Web Developer.
I know how difficult it is to start learning how to code. Knowing where to start can easily feel overwhelming and frustrating when you're new to tech.
But I'm here to help. I've discovered learning tips, strategies, and resources that helped me get where I am today:
I started learning to code online in 2016. Five months later, I quit my job to start freelancing. And exactly 11 months after my first coding lesson I started my own web dev business.
And I believe you can achieve just that if you want to – much faster than I did.
I'm sharing with you everything I've learned in the Free Coding Guide for Beginners.
How do I start learning to code?
If you have never tried coding or web development before, this guide is for you.
You will learn the basics first and then work towards achieving your goals step-by-step. When you're ready to start, click here to start the guide. I'll see you there!
Coding for Beginners
What is coding? Which programming language should I learn first?
What Is Coding?
What is programming? What is web development? How can I start learning coding?
Programming Languages
How does a programming language work? Which programming language should you learn?
Front-End vs Backend
What is the difference between front-end and backend development in web-based projects?
Internet & Web 101
How does the Internet work? Are the Internet and the WWW the same thing?
Coding Blog
How to start learning coding? Helpful tips and strategies to learn coding.
So you're thinking about starting a side hustle and using your tech skills to make some money? If that's the case, then congratulations! It has never been easier to start a freelancing career than right now. The COVID pandemic has changed the job market for good, and...
Welcome to my blog and free online guide to coding for beginners.
If you want to learn coding and web development but you're not sure where to start, you're in the right place.
Start learning coding and web development with my Free Coding Guide for Beginners.
For more helpful articles, head over to my blog.