Python is one of the most popular, powerful and versatile programming languages these days. Python is an excellent tool for web application development and a widely used tool for data analysis, for example.
Why Python?
It's simply one of the easiest programming languages to learn for beginners. The syntax is very clear, so it's easy to follow as a beginner.
Moreover, code written in Python reads a lot like English, making it simple to understand once you learn the basics.
Furthermore, Python offers the tools for solving the most diverse coding problems, so you can use it for a wide variety of different projects. Needless to say, this makes Python one of the most sought-after skills in the world of coding.
What is the best way to learn Python programming?
The best way to learn Python is to combine two or three different resources.
This will help you apply Python for a wider spectrum of projects and tasks in the future.
For instance, try combining an online course and a book with a few bigger projects. That's what I did and I can recommend it to anyone just starting out with learning Python.
To learn more about the powerful features of Python, check out my blog post about what makes Python such a great programming language for beginners.
Please note: This post contains affiliate links to products I use and recommend. If you choose to purchase using these links, I may receive a small commission for referring you. But please, only buy products you believe will help you achieve your goals faster. Thank you for your support!
---
Team Treehouse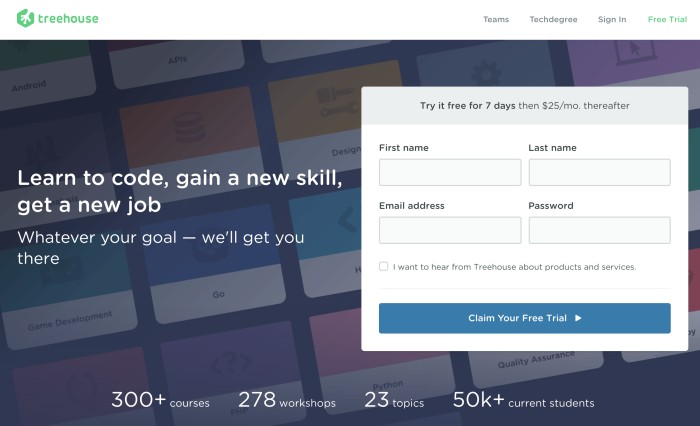 The Python courses at Team Treehouse are perfect for anyone who's just starting out with learning coding and web development. The courses go nicely together with the other introductory courses like the HTML and CSS or the JavaScript resources.
If you're not familiar with Team Treehouse yet, here's a little goodie for you: try their FREE 7-day trial right away and see if you like it! The plans start at $25/month, which gives you access to all courses and content – not just the Python resources.
Recommended courses at Team Treehouse
Here are even more Python courses with Treehouse.
Learn more about Team Treehouse and their pricing plans.
---
Udemy
Udemy has been my go-to spot for learning coding online for a long time already. What makes them so great is their incredible variety of online coding courses for beginners, including the wonderful Python. So, if you're interested in learning more than just Python, Udemy will help you reach your goals.
These Python courses below are just a few of my favourites, which is why I keep recommending them over and over again.
What makes them some of the best Python courses?
They simply focus heavily on building real-life projects, which is definitely the best way to learn Python or any other programming language. You will learn everything you need to know about Python in order to start working on coding projects of your own.
Some courses at Udemy are free, while others come with a price tag. However, Udemy often does quite amazing campaigns with massive discounts of up to 95%!
Recommended course on Udemy
Udemy has a huge selection of further Python courses, but the ones above are my top recommendations. Feel free to browse through more courses right here at Udemy.
---
Codecademy
Codecademy offers a great beginner-level Python course with plenty of free content to get you started.
Codecademy is one of the best places to start learning programming as a beginner, including anyone interested in learning Python.
Most of the actual content at Codecademy is freely available, but getting the Pro membership unlocks cool projects and helpful quizzes to get more out of your learning for $19.99/month.
Recommended course on Codecademy
Codecademy also offers courses for further programming languages and web development topics, making this platform an excellent place to start learning coding.
---
One Month Python: Learn Python in 30 Days
If you are interested in an all-in-one Python bootcamp, I can recommend going for One Month Python.
The bootcamp is well-suited for total Python and coding beginners. In just 30 days you will learn all the Python skills you will need to start working on Python projects on your own. Especially if you have an idea for a project in mind already, One Month Python can help you achieve your goals quicker than you think.
What I loved the most about One Month Python is the supportive and helpful community with fellow students and the bootcamp instructors. You can connect with everyone easily using the course Slack channel.
Although it is a bootcamp, you will not feel like you have to dedicate your entire life to it. Simply watch your video lectures and finish your assignments at your own pace. All you need is between 30 minutes and 1 hour per day and you are good to go!
Ready for your bootcamp? Great! Get a 10% discount using this link.
---
Book: Python Crash Course
This amazing Python book by Eric Matthes was my very first programming book when I started learning coding and it still is my absolute all-time favorite.
You will literally go from having no idea how to work with Python to creating your own games, analyzing data with Python, and building your own web applications.
Python Crash Course is divided into two parts:
In Part 1, you will learn all about how to set up your working environment, how Python works, and how to write good code with Python.
In Part 2, you will apply your new skills to three different real-life projects – great for your portfolio!
The author does a great job at addressing even the most unexperienced reader. Each topic is explained clearly and very thoroughly, and the practical exercises in each chapter let you try out Python right away.
Moreover, the pace of the book is just right for beginners. You will never feel like you're missing something or that you're left alone with your questions.
If you're anything like me, you sometimes prefer to have a physical copy of a book in your hand instead of taking an online course. If that's the case, Python Crash Course is the book I'd recommend adding to your shelf.
For a more thorough review of the book, check out my post about learning Python with Python Crash Course.
---
Book: Think Python – How to Think Like a Computer Scientist
Think Python is another great beginner-level programming book to start learning Python with. It's a hands-on guide that takes you through the Python language one small step at a time.
The book starts out with the basics of Python, where you will learn all you need to know about the syntax and how Python works in practice.
After that, you will move on to functions, data structures and other more advanced topics of object-oriented programming.
What I like about Think Python is that each chapter has well-structured exercises to help you learn by doing and by solving problems by yourself.
Hence, you will need to try out all the different programming concepts and ideas you've learned.
At the same time, you will most probably get new ideas for small projects of your own and how you could apply your new skills to solving further coding problems in the future.
---
More resources to learn Python for beginners:
Happy learning!
– Mikke